The BMI Initiative
Indoni is an NGO and is dependent upon donations.
Many of our young people come from child headed homes, are orphans, or their parents are unemployed.
The BMI initiative not only assists with vital funds necessary for daily functioning within the academy, but provides a caring, supportive, kind and loving framework.
In the spirit of Ubuntu, the ancient African philosophy espousing human kindness with the essential belief that "I am what I am because of who we all are", the BMI model was conceptualised. It becomes more than just individual sponsoring or mentoring. A BMI joins a network and supports the idea that we are 'stronger together '.
BMI Funding Model
Indoni's unique BMI funding model consists of a student matched with a mentor who supports him or her financially with a monthly stipend.
This stipend helps to cover the mentee's basic requirements, i.e. transport, airtime, food and board. This is unable to cover any other unexpected needs, i.e. medical/clothing, etc.
This funding model also teaches the beneficiaries how to budget and use their stipends responsibly.
In addition to the monthly stipend contribution, the mentor will commit to a monthly mentoring meeting, building a relationship with the mentee to motivate, instill hope and share advice.
Indoni's Ongoing Costs
One of our greatest costs is transport to and from performances to keep the students safe. We often need to use taxis when the trains are unreliable.
Since its inception in 2014, we have identified Indoni's financial requirements as follows:
Donate via Justgiving
Doing a walk or run for charity? Or have an idea you could turn into a campaign to support Indoni? Check out JustGiving – the world's most trusted platform for online giving.
Their mission is to ensure no great cause goes unfunded and have helped people in 164 countries raise over $4.5 billion for good causes since they were founded in 2001.
You can create your own Indoni fundraising campaign in minutes, because Indoni is one of the registered charities listed at JustGiving.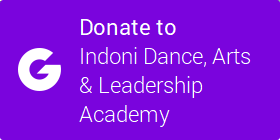 Mentoring: The Way It Works
Some people sponsor and mentor. Others only sponsor or only mentor. "It takes a village to raise a child".
The guidance and wisdom that proves invaluable for these young people, is derived from those who have paved their way through their own life journey, know their path well, and what it takes to be successful: the challenges, the obstacles, and the tenacity required.
While some of the trainees will be mentored by BMI's, others will be mentored either by members of the faculty, members of the Board of Directors or Patrons.
We will ensure that each trainee has a mentor, or in some cases, a group of mentors. We believe that inter-generational conversations and mutually beneficial sharing of knowledge and experiences would be invaluable to enable the next generations of artists to become confident professionals and performers.
The Full BMI Role
BMI's invest their financial support as well as their time and expertise, if possible, to mentor one of the trainees. This is the Full BMI Role and  helps to build relationships and understanding across race, gender, class and generational divides.
Full BMI's would need to sustain one trainee for 12 consecutive months by:
Monthly stipend of R1 300 (approx. AUD 110 / USD 95 / GBP 80)

Monthly meetings between mentor and mentee (local mentors)

Consistent contact via WhatsApp, Skype and other social media (local and international mentors)

Support by attending performances

Participating in mentor support meetings

Maintaining connection with those in

Mentor Partnerships (local/international)

Identifying and fostering unique potentials/skills/talents/interests in mentee

Building meaningful relationship between mentor and mentee

Adding value to the individual mentee and to Indoni as a whole, providing input

where the mentors' individual skills are pertinent to the organisation.
Download BMI sponsorship form
Click to make a donation to Indoni
Click image to download brochure
BMI Options
Becoming a BMI has many options, to make it completely accessible for people to get involved at any level. Here are the different options:
Financial Sponsorship
Full BMI

Shared BMI

BMI Consortium
BMI Collective
Humanitarian Donor
Indoni Patron
Description of Different BMI Roles:
Financial Sponsorship: However big or small – without responsibility of mentorship – but with regular updates regarding growth and development of student.
Full BMI Role: Financial sponsorship and mentorship of one student.
Shared BMI Role: Full financial sponsorship with shared mentorship of one student, for international sponsors.
BMI Consortium: If you are part of a strong group of people who all wish to support Indoni but would prefer a shared role, this consortium option may work for you. For example, we have a consortium of 30 from Sydney, Australia, who share three students, and a consortium from Cape Town of 13 guys from a young gentlemen's club, who share one student.
BMI Collective: BMIs support not only an invidividual student, but the whole collective group of trainees, with a small donation of R1 300 per month. The more BMI Collective suppporters we have on board, the more we can give the trainees, and the more we can sustain the whole system that supports the trainees.
Humanitarian Donor: Contributes a lump sum once–off or annually for operating costs such as salaries, trainee tuition, facilities, equipment and resources, and the purchase and running costs of a vehicle for transporting students.
Indoni Patron: Donates any amount of funds or resources or his/her time or barters /exchanges services. A number of the co-founders, office bearers and faculty have, and will continue to donate their time.
Volunteering
We are always needing help transport, filming, video editing, organisation etc for events. Please contact us if you can offer some time to help out.
When I began as a mentor to this amazing young woman, little did I know how she would teach me her tenacity, constant positive attitude, sense of joy and grace in all she attempts, her boundless energy and her beautiful gift of dance. Thank you Indoni and Balu, and most of all thank you Amanda.
Les Hathorn