Benefactor - Mentor - Investor (BMI)
The lifeblood of the Indoni Academy.

Alongside our BMI initiative, we need financial sponsorship for performance events, and volunteers to lend skills and a helping hand.
How you can help
Sponsorship is a two-way street between charity and business or individual. Indoni is a registered charity and needs constant financial support to keep going.
Help is needed to fund ongoing expenses for performance events, as our trainees individual needs are sponsored annually by our Benefactor-Mentor-Investor (BMI) initiative. Performance costs typically revolve around transport, petrol, costumes and complimentary tickets for poor families.
With your support, we will be able to provide the talented and enthusiastic youngsters with a chance to develop their skills, knowledge, attitudes and values, so that they can be role models in their communities, and sustain themselves and their families.
In return for your generosity, we will be happy to include your company logo on our website and marketing material where appropriate. And hopefully, you will benefit from the joy of knowing you are helping talented dancers to perform live on stage.
Donate directly via Paypal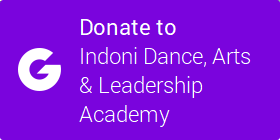 BMI Initiative
The BMI initiative invites innovative, accomplished and compassionate individuals to invest in talented young trainees.
It allows a bringing together of people in a reciprocal relationship, working towards a greater vision for South Africa as a whole, in an atmosphere of 'uBuntu' (the belief in a universal bond of sharing that connects all humanity; human kindness).
The BMI initiative addresses the need not only to have money made available in stipends for the students, but, more importantly, mentorship provides an incubator for a nurturing, and a guiding connection. 
Each student comes to Indoni with so much pain and so much potential. The BMI programme allows each trainee an unprecedented opportunity to connect with someone who cares deeply about them and can help them to reach their potential. We will ensure that each trainee has a mentor.
We believe that inter-generational conversations and mutually beneficial sharing of knowledge and experiences would be invaluable to enable the next generations of artists to become confident professionals and performers.
Volunteering
Everyone can play a part! From passing on unused goods to making food for an event to offering skills that are needed… each contribution is valuable and necessary.
We only ask our volunteers to commit to the type of support they feel they can provide. You choose how you feel you can give support, when you are available for volunteering services and which needs you feel able to respond to.
You may not be able to help everyone, but you can help someone.
Our fragmented communities need lots of help. Generous supporters who find they are able to provide useful goods or skills to benefit our trainees, such as clothing, technology or helping with cooking or transport.
With much appreciation and thanks to all our sponsors for their ongoing support. Our work could not progress without it.